About Nippon 2007
The Nippon 2007 Worldcon will be an exciting, event-filled convention, appealing to fans from all over the world. It will have the familiar parts of a Worldcon: multiple SF & Fantasy programming streams, guests, Hugo Awards, Masquerade, dealers room, art show, and exhibits, all with an emphasis on participation. Nippon 2007 will be the first time the Worldcon is held in Japan. The combination of Japanese innovation and Worldcon tradition will make this a truly unforgettable event.
Your Japanese Worldcon experience will start as soon as you step off the plane at Narita Airport. You'll take train or bus around Tokyo Bay, through the largest city on this planet, and down to Yokohama (Travel page). The sail-shaped InterContinental Grand Yokohama hotel rises next to the Convention Center, making it easy to pick out from a distance. The Convention Center itself is very high-tech and includes fascinating architectural features (Conference Center Layout). The city of Yokohama also beckons with its mix of modern and traditional attractions, shops and restaurants, all accessible by efficient public transportation.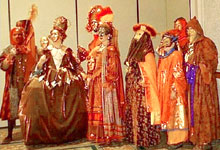 Another unique aspect is that the Worldcon will be combined with the Japan National SF Convention, and your Worldcon membership will include membership in the Japan National Convention as well. One of the most treasured features of the Japanese National is the Masquerade, so the combination with Worldcon Masquerade should result in a spectacular event! The Japanese National SF Convention typically attracts 1500 to 2000 members, so we expect Nippon 2007 to have 3500 to 4500 members.
As this is both a Worldcon and a national convention, program items will be held in either English or Japanese, with simultaneous translation provided for major events. Traditional Worldcon events like the Hugo Awards will be run in English, but with translation into Japanese. The Japanese National Convention's prestigious Seiun Awards will be held in Japanese, with English translation.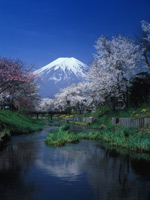 Because this will be the first time most regular Worldcon attendees have been to Japan, many fans will also take the opportunity to explore this most intriguing country. See our Travel and Tour with Fans pages.
We have a U.S. office that handles non-Japanese membership administration, including production of the English language versions of the Progress Reports, and we will send out as much information as we can to help you make your visit memorable.
We look forward to seeing you in Yokohama in 2007. Until then - Sayonara!


---
| | |
| --- | --- |
| Can't make it to Japan? Try St Louis and the North American Science Fiction Convention, Archon 31 August 2-5, 2007. | |
---

The Nippon 2007 Committee wishes to assure everyone that neither they nor the convention site suffered any injury during the recent earthquake. Although there are more earthquakes in Japan that almost anywhere else in the world, Japan is well prepared and there is rarely any significant damage caused by them. Still we suggest that you take the precaution of familiarizing yourself with evacuation routes and other emergencies procedures shortly after you check in at your hotel. You may also wish to review additional safety tips at this site http://www.fema.gov/hazard/earthquake/eq_during.shtm. If you really want to delve into the subject of earthquakes you can look at this site http://earthquake.usgs.gov/learning/. 19 July