Ghibli Museum Tour
---
In response to requests from the many fans of Hayao Miyazaki, Nippon 2007 has arranged two tours to the Studio Ghibli Museum in Mitaka. The tour bus will pick up at Pacifico Yokohama, spend two hours at the museum, then return to Pacifico.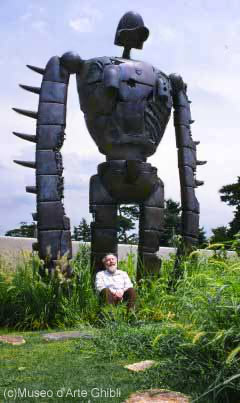 Thursday, 30 August
The first tour leaves Pacifico at 9 am (0900 h), spends from 11 am to 1 pm at the museum, then arrives back at 3 pm (1500 h).
Monday, 3 September
The second tour leaves Pacifico at 2 pm (1400 h), spends from 3:30 to 5:30 pm at the museum, then arrives back at 7 pm (1900 h).
The printout of your settlement email, or transfer payment receipt is the voucher to pick up your ticket. Don't forget to bring it to Japan.
Cancellations -
If a tour is cancelled - full refund
After 15 August - no refund, but the reservation may be transferred to another Nippon 2007 Member.
We will have a "Ghibli Museum Tour" desk by the Art Show in Hall A, where you can pick up your tickets during the following hours -
Thursday tour - Wednesday, 1 to 6 pm (1300 to 1800 h), Thursday 8 am to 8:30 am (0800 to 0830 h)
Monday tour - Sunday 10 am to 6 pm (1000 to 1800 h), Monday 10 am to 1:30 pm (1000 to 1330 h)

Ghibli films you'll wish to see are Oscar winner "Spirited Away," "My Neighbor Totoro," "Nausicaa, Valley of the Wind," "Kiki's Delivery Service," and "Princess Mononoke." Hayao Miyazaki has many more films to his credit, and all are worth seeing.