Charles Ardai
---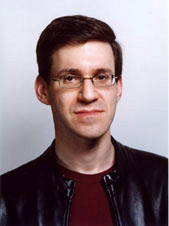 An entrepreneur and businessperson on one hand and a writer and editor on the other, Charles Ardai is best known as the founder and CEO of Juno, one of the nation's leading Internet services, and more recently as the founder and editor of Hard Case Crime, a line of mass-market paperback books reviving the style of the pulp crime novels of the 1940s and 50s. Hard Case Crime has been featured on CBS Sunday Morning and has won enthusiastic praise from publications ranging from The New York Times and USA Today to Reader's Digest, Entertainment Weekly and The Stranger, where author Neal Pollack wrote, "Hard Case may be the best new American publisher to appear in the last decade."
Ardai also serves as a managing director at the D. E. Shaw group, in which capacity he is responsible for technology ventures such as Schrodinger, a leading developer of software for computational chemistry (Ardai serves as the firm's chairman and president), and Attenuon, a pharmaceutical company developing a new generation of therapeutics for the treatment of cancer.
As a writer, Ardai has been nominated twice for the Edgar Allan Poe Award by the Mystery Writers of America and twice for the Shamus Award by the Private Eye Writers of America, and he won the Edgar in 2007 for his novelette "The Home Front." His writing has appeared in more than three dozen publications and anthologies ranging from Alfred Hitchcock's Mystery Magazine, Ellery Queen's Mystery Magazine, and Twilight Zone to The Year's Best Horror Stories and Best Mystery Stories of the Year. His first novel, Little Girl Lost, was published in 2004 (under the pseudonym "Richard Aleas") and was nominated for both the Edgar and the Shamus as best first novel of the year. Ardai graduated from Columbia University, summa cum laude, in 1991 with a BA in English and Comparative Literature. He is 37 years old and lives in New York with his wife, Hugo nominee Naomi Novik.

---
Recently published - SONGS OF INNOCENCE by "Richard Aleas" (July 2007) LITTLE GIRL LOST by "Richard Aleas" (October 2004) THE GOOD-NEIGHBOR POLICY: A Double-Cross in Double Dactyls (September 2007)
---
| Day | Time | Title | Description | Participants |
| --- | --- | --- | --- | --- |
| Fri | 1400 | Readings | | Charles ARDAI |
| Sat | 1400 | Kaffeeklatsche | | Charles ARDAI |
| Sat | 1700 | Autographs | | Charles ARDAI |
| Sun | 1000 | Small Press Publishing in the United States, Japan, Europe ... | Some of the most exciting work in science fiction, fantasy and horror is produced by small presses. What makes a book good? Can small presses save us from degeneration? What challenges in design, production, and marketing do small presses face? Can labors of love make money? | Daniel SPECTOR, Bob EGGLETON, Charles ARDAI, John D. BERRY, Kelly LINK |