Lillian Csernica
---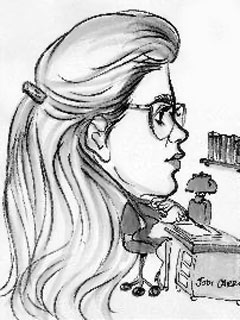 At age 5, Lillian Csernica discovered the Little Golden Books fairy tales. From there she moved on to the works of Ray Bradbury, Harlan Ellison, Tanith Lee, and Terry Pratchett. Her very first short story sale, "Fallen Idol," appeared in After Hours and was later reprinted in DAW'S YEAR'S BEST HORROR STORIES XXI. Ms. Csernica has gone on publish stories in DAW'S YEAR'S BEST HORROR STORIES XXII, 100 WICKED LITTLE WITCH STORIES, and HORRORS! 365 SCARY STORIES. Her Christmas ghost story "The Family Spirit" appeared in Weird Tales #322 and "Maeve" recently appeared in #333. Her historical romance SHIP OF DREAMS, an adventurous tale of an English lady and a French pirate, is available from Dorchester Publishing. Ms. Csernica has also written a considerable amount of nonfiction in the field of science fiction, fantasy, and horror. She has been a columnist for Speculations, writing "The Fright Factory" and "The Writer's Spellbook." Her controversial column of literary criticism and short fiction reviews, "The Penny Dreadful Reader," ran in Tangent, earning praise from such leading lights of the field as editor Ellen Datlow.
Born in San Diego, California, Ms. Csernica is a genuine California native. She currently resides in the Santa Cruz mountains, tucked away in a little corner not found even on the local maps. With her dwell her sons Michael and John, her husband Chris, and three cats, along with various forms of wildlife including but not limited to acorn woodpeckers, raccoons, coyotes, and wild boar.

---
Recently published - SHIP OF DREAMS, a pirate romance from Dorchester Publishing.
---
| Day | Time | Title | Description | Participants |
| --- | --- | --- | --- | --- |
| Thu | 1300 | Heroines in Anime | Some people claim that there are no heroines in Anime; that the females are simply eye candy or in need of rescuing. Is this true? Or are female Anime heroes capable of kicking ass on an equal footing with the males? | Lillian CSERNICA, Rene WALLING, Terry O'BRIEN |
| Fri | 1100 | What Every Pro Should Know About Fandom | Without fandom, there would be no Worldcon and no Hugo Awards. Once you immerse yourself in fandom there are definite do's and don'ts. Find out what they are from people who know. | Gay HALDEMAN, Lillian CSERNICA, Patrick NIELSEN HAYDEN, Susan DE GUARDIOLA |
| Fri | 1500 | SF for the Handicapped | As the population ages, more and more people have special needs in order to function fully within society. How do those with "Special Needs" access their SF? | Lillian CSERNICA, W A THOMASSON, Farah MENDLESOHN, Pat CADIGAN |
| Sat | 1200 | Location,Location,Location: How Setting Influences and Structures the Story | How do the arc of the Ringworld, the hills of the Shire, the plazas of Trantor shape their stories' characters and events? Does local color bewitch or bore the reader? (Does it matter? -- why?) Are real places easier to evoke than imaginary ones? Which genre settings can't you forget? | David D. LEVINE, Delia SHERMAN, Lillian CSERNICA, Stanley SCHMIDT |
| Sat | 1600 | Religion in Fantasy | Does C. S. Lewis's and J. R. R. Tolkien's fantasy promoted Christianity, while Philip Pullman's subverts it? Too simplistic? How is creating a credible religion like creating a workable economy? Who are the best at this? Must you believe, even a little, in a god you make yourself? | Lisa C. FREITAG, Esther FRIESNER, Lillian CSERNICA |
| Sun | 1400 | Autographs | | Lillian CSERNICA |