Grania Davis
---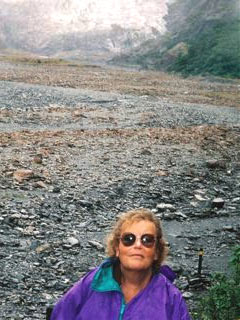 Grania Davis is a respected author and editor of science fiction and fantasy. In addition to her highly-regarded fiction, she has edited the posthumous work of the late, great Avram Davidson. She was introduced to Japanese science fiction in the early 1970ís by Judith Merril, who welcomed her as a co-editor for a projected anthology of JSF, and during 1979-80 she was resident in Zama, Japan, where she worked with members of the Nihon SF Honyaku Benkyo-Kai on a number of translations for the anthology.
Her novels include The Rainbow Annals (1980), The Great Perpendicular Path (1980), and Moonbird (1986); and in collaboration with her former-late-husband Avram Davidson, Marco Polo and the Sleeping Beauty (1988), and The Boss in the Wall: A Treatise on the House Devil (1998). She co-edited (with Henry Wessells) Avram Davidsonís posthumous Vergil Magus novel, The Scarlet Fig: Or Slowly Through a Land of Stone (2005). Her Avram Davidson anthologies include the award winning The Avram Davidson Treasury (with Robert Silverberg, 1998), The Investigations of Avram Davidson (with Richard A. Lupoff, 1999), Everybody Has Somebody in Heaven: Essential Jewish Tales of the Spirit (with Jack Dann, 2000), The Other 19th Century (with Henry Wessells, 2001) and !Limekiller! (with Henry Wessells, 2003). Her short stories have appeared in numerous science fiction magazines, original anthologies, and best of the year collections.
She grew up in Milwaukee and Hollywood, California, and has lived and worked at various times in bustling New York; on the slopes of volcanoes in Amecameca, Mexico and more recently in Rotorua, New Zealand; on a sandbar in Belize; in a Tibetan refugee settlement in the Indian Himalayas; near neon-lit Tokyo, where she worked as a military historian; and at the beach on North Shore, Oahu, Hawaii, where she graduated from the University of Hawaii. She currently lives in San Rafael, Marin County, California, with her family and cats, where she is working on a collection of her own stories, and editing and publishing Avram Davidsonís immortal literary estate.

---
Recently published - The Other 19th Century (with Henry Wessells, 2001) and !Limekiller! (with Henry Wessells, 2003), Speculative Japan, Outstanding tales of Japanese SF&F,(Kurodohan Press)

---
| Day | Time | Title | Description | Participants |
| --- | --- | --- | --- | --- |
| Sat | 1200 | Class-Based Societies in F&SF | Why do so many writers create a world with class politics, a hereditary rulership and limited social mobility? Should a democratic citizen write glowingly of kings? Is it appropriate to do so in SF set in the far future (Is Damon Knight right to criticize A.E. van Vogt)? | Cecilia DART-THORNTON, Edward JAMES, Heidi LYSHOL, Grania DAVIS |
| Sat | 1700 | Autographs | | Grania DAVIS |
| Sun | 1000 | A Look Back: Jack WILLIAMSON | A look back at the life and works of Jack Williamson | G. David NORDLEY, Scott EDELMAN, Grania DAVIS |
| Sun | 1500 | Kaffeeklatsche | | Grania DAVIS |