Mari Kotani
---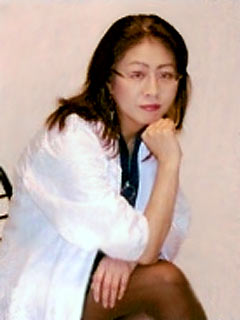 Mari Kotani is the author of "Evangelion as the Immaculate Virgin" (Tokyo: Magazine House, 1997), and is also a science fiction critic.
Kotani translated How to Suppress Women's Writing into Japanese, and is one of the founders of the Sense of Gender Award and The Japanese Association of Feminist Science Fiction and Fantasy. She is the chair of the Japan PEN Women Writers Committee and a member of SFWJ, Science Fiction Writers of Japan. Kotani is also a member of Cafe Scifi+tique, along with Norma Oyama, Kimiko Shimada, Reona Kashiwazaki, Minami Ishigami, Manami Tachibana, and Min Onouchi.
Her "Joseijou muishiki: techno-gynesis josei SF-ron josetsu," (Tokyo: Keiso shobo, 1994) won the 15th Japan SF Award (Japanese Nebula).
© feministsf.net

---
Recently published - Space, Body, and Aliens in Japanese Women's Science Fiction (Science Fiction Studies, 2002)
---
| Day | Time | Title | Description | Participants |
| --- | --- | --- | --- | --- |
| Fri | 1400 | Yaoi vs. Slash | | Mari KOTANI, Anne HARRIS, Amy THOMSON, Reiko HIKAWA, Hisayo OGUSHI, Junko KANEDA, Azusa NOA |
| Fri | 1600 | Women of the Future | | Mari KOTANI, Motoko ARAI, Mariko OHARA, Hisayo OGUSHI, Saori KUMI, Mio WAKAGI, Candas DORSEY, Mary NIGHTON |
| Fri | 1700 | Introducing the Triptree Award and the Sense of Gender Award | | Reona KASHIWAZAKI, Yutaka EBIHARA, Hisayo OGUSHI, Tomoyo KASUYA, Megumi KOBAYASHI, Yasuhiko NISHIZAWA, Natsuko MORI, Mari KOTANI, Kelly LINK, Candas Jane DORSEY, Eileen GUNN |
| Sat | 1200 | We Love Cyberpunk! | | Takayuki TATSUMI, Makoto KIKUCHI, Mari KOTANI, Eileen GUNN, Trinity, Ellen DATLOW |
| Sat | 1600 | Women of Japan Panel discussion | Women of Japan, Laurie Toby Edison's recently completed 8 year intercultural photography project, involved both Japanese and US fans (among others) and is a featured exhibition fo Nippon 2007. The images show the beauty and power of diverse Japanese women, and extend the boundaries of both Japanese and US standards for "who" is beautiful and "who" is significant. Come hear Laurie Toby Edison, and several of the women in her photographs, discuss the project and its importance. | Laurie Toby EDISON, Junko FUKAZAWA, Rebecca JENNISON, Manami TACHIBANA, Mari KOTANI |