Chris O'Shea
---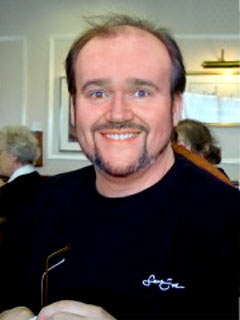 Chris "The Magician" O'Shea attended his first convention in 1980 in the US.
Since then he's been involved in running conventions of all kinds (including DrWho/Blakes7/Babylon5, costuming, Discworld, filking, humour, serious literary, British National Convention/Eastercon and Worldcons), running the www.SMOF.com website, maintaining the www.EASTERCON.org website and contributing to Wikipedia and the ConRunner wiki.
His band, Cosmic Trifle, were Guests of Honour at FilkContinental in Germany in 2004.
In 2007 Chris won the JETS (Japanese Expeditionary Travel Scholarship) by popular vote of European fandom and is attending Nippon 2007 thanks to the generous support of the League of Fan Funds and the 2005 Worldcon, Interaction.
Chris will be in Japan for two weeks after Nippon 2007 and is looking for places to see and people to visit, so come up, say hello and invite him to see your local area and meet your local fandom.
He's been known to write his biography in the third person and to drink diet Coke!

---
---
| Day | Time | Title | Description | Participants |
| --- | --- | --- | --- | --- |
| Thu | 1400 | Fan Funds and What They Are | For fifty years we've had Fan Funds that carry people across the seas to visit other fans. Two special one-time funds were made for Nippon 2007, bringing John from the U.S. and Chris from Britain. Ask them questions! Hear their stories! | John HERTZ, Chris O'SHEA |
| Fri | 1200 | Digital Maoism: Drowning the Individual Voice | A book is small set of people, usually one person, authoring a story. The web turns this sideways, allowing many to collaborate, drawing upon snippets from everywhere. What effect does this have on creativity, our reading habits, and the way we process information? Is there a future for the book as we know it? | Cory DOCTOROW, Eileen GUNN, Chris O'SHEA, Elizabeth Anne HULL |
| Sun | 1200 | Future Art: What New Forms of Art might Arise from Current Technologies or Esthetics? | Computer composition, collaborative kinetic sculpture, zero-gee dance? "Blogging" is one new candidate, as are phone-cam web journals and "reality" television. What's likely to be next, and do we really want it? | Dave HOWELL, Karen HABER, Susan DE GUARDIOLA, Chris O'SHEA, Pat CADIGAN |