Brooks Peck
---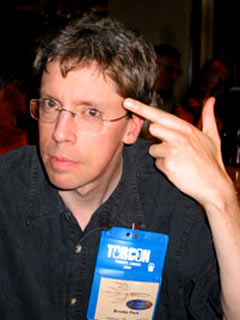 Brooks Peck helped found Science Fiction Weekly, the Web's first professional SF news and review site (and still going strong 11 years later). He has written extensively for scifi.com, SCI FI Magazine, Wired, Giant, and others. In 2004 he joined the staff of the Science Fiction Museum & Hall of Fame in Seattle. There, he helped create exhibits on Star Trek, SETI, pulp art, costumes, and more. He's currently working on an exhibit about futuristic and speculative architecture. His most recent short story appeared in the anthology "In the Shadow of Evil."
He's currently immersed in thinking about speculative and futuristic architecture and cities, from a variety of disciplines such as art, entertainment media, space science, and traditional architecture.

---
Recently published - "Climb, Said the Crow" In the Shadow of Evil, DAW Books.

---
| Day | Time | Title | Description | Participants |
| --- | --- | --- | --- | --- |
| Sun | 1600 | Science Fiction Museum - A Virtual Tour | Take a tour of Seattle's Science Fiction Museum & Hall of Fame, home of the Death Star and Enterprise-D. A member of the curatorial department will show you the galleries, artifacts, and exhibitions. | Brooks PECK |