Joe Siclari
---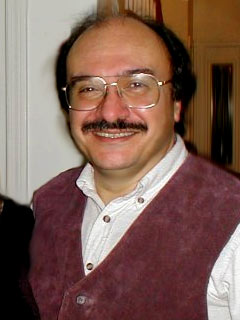 Joe Siclari has been a fan since 1965, having started as an SF reader almost a decade earlier with Murray Leinster's Forgotten Planet. He has published over 100 fanzines, started SF clubs and conventions, chaired a Worldcon, and worked on many other conventions. Joe's current main interest is S-F fan history. His latest project was co-editing, with Mike Resnick, this year's Hugo nominee for Best Related Book, Worldcon Guest of Honor Speeches.
Since 1994, he has been Chairman of the FANAC Fan History Project which puts fanhistorical material on the internet (http://fanac.org). Joe is creating a library of fan publications and a museum of fannish memorabilia which has had an exhibit at every Worldcon since 1989. Joe served as the North American delegate to DUFF (Down Under Fan Fun) in 2005 and is its current US administrator.
Joe's convention running experience includes working on 25 Worldcons in every area from programming to hotel relations. Joe was Chairman of the 50th World Science Fiction Convention, MagiCon (Orlando, 1992) and a Division Head for SunCon (Miami Beach, 1977), ConFederation (Atlanta, 1986), and Noreascon 4 (Boston, 2004). In 2006 he co-edited, with Edie Stern, the Space Cadet's Handbook, the Worldcon Souvenir Book for L.A.con IV. He has chaired 20 other science fiction conventions, and worked on over 250.

---
---
| Day | Time | Title | Description | Participants |
| --- | --- | --- | --- | --- |
| Fri | 1000 | Is This Your First Worldcon? (Japanese) | What everyone should know about about Worldcons. This session will emphasize knowledge for first timers from Asia. | Amy THOMSON, Marah SEARLE-KOVACEVIC, Joe SICLARI |