George Takei
---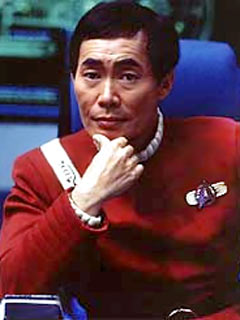 George Takei, best known for his portrayal of "Mr. Sulu" in the acclaimed television and film series "Star Trek," is currently a recurring guest star on NBC's hit ensemble drama series "Heroes" as Kaito Nakamura, a wealthy industrialist with ties to the secret organization tracking people with abilities and Hiro Nakamura's (Golden Globe nominee Masi Oka) father. He has also guest starred on NBC's new improv show "Thank God You're Here."
Takei's acting career has spanned five decades. It began in the summer of 1957, while attending the University of California at Berkeley, when he was cast to dub the original Japanese lines for "Rodan" into English, creating distinct voices for eight different characters. His professional acting debut occurred on live television in the pioneering drama series,"Playhouse 90." His motion picture debut was in "Ice Palace" starring Richard Burton. Other film credits include six "Star Trek" motion pictures, Disney's "Mulan" and "Mulan II," "Trekkies," "Return From the River Kwai," "Hell to Eternity," and many more.
With the outbreak of World War II, Los Angeles, California, born Takei and his family were placed behind the barbed-wire enclosures of United States internment camps along with 120,000 other Japanese Americans. Takei spent most of his childhood at Camp Rohwer in the swamps of Arkansas and at wind-swept Camp Tule Lake in northern California. At the end of the war, Takei's family returned to their native Los Angeles.
In the international arena, the Government of Japan recognized George's contribution to the Japan-United States relationship by giving him the Order of the Rising Sun, Gold Rays with Rosette. The decoration was conferred by His Majesty, Emperor Akihito, at the Imperial Palace in Tokyo in November 2004.

---
---
| Day | Time | Title | Description | Participants |
| --- | --- | --- | --- | --- |
| Fri | 1400 | George TAKEI: Q & A | A question and answer session with George Takei. | George TAKEI |
| Fri | 1600 | Autographs | | George TAKEI |
| Fri | 1830 | Star Trek New Voyages: World Enough and Time | A showing of the new production, Star Trek New Voyages: World Enough and Time. With an introduction by George TAKEI and Marc ZICREE. Japanese subtitles. | George TAKEI, Marc ZICREE |
| Sat | 1400 | Autographs | | George TAKEI |