Michael Whelan
---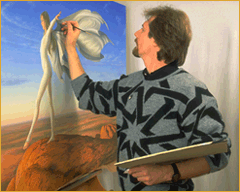 Michael Whelan has been interested in the imagery of the fantastic since his early childhood. Combined with a love of drawing and painting, Michael turned this fascination into a career as the premier fantasy illustrator of the last 24 years. He has created hundreds of paintings seen on book covers, calendars, magazines, and record albums.
During that time, Whelan garnered virtually all available illustration or art awards in the international fields of science fiction and fantasy. For example, he is a fourteen-time HUGO (World Science Fiction) Award winner and three-time (the maximum) winner of the HOWARD (World Fantasy) Award for Best Artist. The readers of LOCUS magazine, the #1 professional and fan resource publication for the Fantasy and Science Fiction genre, have awarded Whelan "Best Professional Artist" twenty-one years running. Several publications have named Whelan as one of the 100 most influential people in the field, a list which includes authors, editors, directors, special effects masters, etc. In 1994 he won a Grumbacher Gold Medal and in 1997 he was awarded a Gold Medal from the Society of Illustrators and an Award for Excellence in the Communication Arts Annual. The September 1998 Art Forum International Magazine referred to one of his works as "an absolute stunner," and continued, "Whelan excels in creating dead worlds that are tentatively beginning to flower again..." Most recently, he was awarded a Spectrum Annual gold medal for his painting "The Reach."
Nevertheless, throughout his illustration career Michael Whelan has found time to work on "self-commissioned" pieces not initially intended for publication, created solely to realize personal artistic themes. These non-illustrative works differ somewhat in theme and execution from his cover art (though he is quick to point out that all his artwork is, at its most fundamental level, about creating a "sense of wonder"). Most closely allied to the scope and feeling of what is referred to as contemporary "Visionary Art," his gallery painting is imbued with a strong sense of the mystical or dreamlike, and often employs symbolism to convey themes and ideas. After successful one-man shows of his personal works in 1997 and 1999, he now devotes his time exclusively to his gallery work.
Michael's original paintings have been displayed and sold at galleries and museums throughout the United States and around the world. He has had three art books published, the most recent being THE ART OF MICHAEL WHELAN, a deluxe 208-page collection of Whelan art published by Bantam Books. Posters, prints and other items featuring Whelan art are available through Glass Onion Graphics in Danbury, CT.

---
---
| Day | Time | Title | Description | Participants |
| --- | --- | --- | --- | --- |
| Thu | 1500 | Kaffeeklatsche | | Michael WHELAN |
| Fri | 1200 | Painting Demonstration | Guest of Honor Michael Whelan, Bob EGGLETON and Naoyuki KATO demonstrate painting using ideas and suggestions flown in from the audience. | Michael WHELAN, Bob EGGLETON, Naoyuki KATO |
| Sat | 1300 | Autographs | | Michael WHELAN |
| Sat | 1400 | Kaffeeklatsche | | Michael WHELAN |
| Sun | 1200 | The Art of Michael WHELAN | Guest of Honor Michael Whelan presents an overview of his work. | Michael WHELAN |