George Takei to Attend Nippon 2007
---
Star Trek Actor George Takei to Attend First World Science Fiction Convention to Be Held in Japan
Nippon 2007 is pleased to announce the participation of noted actor George Takei at the 65th World Science Fiction Convention (Worldcon), which is to be held from August 30 through September 3 in Yokohama, Japan.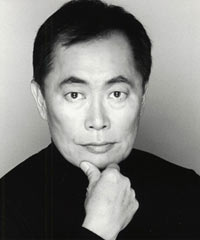 Prominent in Mr. Takeiís five decades long career is his portrayal of Lieutenant Sulu in the original Star Trek television series, a role which he reprised in six subsequent Star Trek movies. Other science fiction shows include roles in Twilight Zone, Voyage to the Bottom of the Sea, and he is currently in the hit television series, Heroes.
Mr. Takei will be attending the Worldcon to unveil and present the newest fan production of Star Trek New Voyages: World Enough and Time. He will be signing autographs both before and after the screening of the film. Mr. Takei will also co-host the 2007 Hugo Awards Ceremony, the annual awards presented to the best works in science fiction released in the 2006. Mr. Takei and Nozomi Ohmori, a well-known translator of science fiction in Japan, will host the ceremony on Saturday, September 1.
Nippon 2007 is the 65th World Science Fiction Convention and the first Worldcon to be held in Japan.
During World War II, Mr. Takei and his family, together with 120,000 other Japanese Americans, were incarcerated in U.S. internment camps. Yet, throughout his life, he has worked to strengthen the tie between the U.S. and Japan. He was appointed by President Clinton to the Japan-U.S. Friendship Commission, served as Chairman of the Board of the Japanese American National Museum, and is on the board of the U.S.-Japan Bridging Foundation.
In 2004, his work was recognized by the government of Japan with the presentation of the Order of the Rising Sun with Gold Rays and Rosette by His Majesty, Emperor Akihito.
---
Brief comments on "Star Trek New Voyages: World Enough and Time" by former Worldcon Chair Craig Miller -
These ST:NV episodes have been getting better and better. There are a lot of professional film and TV people working on them, providing sound, lighting, special effects, etc. And while not all of the actors are wonderful, there are some really good performances. George Takei gives a top notch performance, and so does the woman playing his daughter.
I've seen this episode and it's surprisingly good. For people who can't make it to Nippon but who are in Southern California, they'll be screening this latest episode on August 23rd at the Fine Arts Theater on Wilshire Blvd in Beverly Hills. Screenings at 7 pm and 9 pm.)