(back)
Takumi Shibano

Takumi Shibano has been translating English science fiction into Japanese for over half a century; he has built a bridge between fans in Japan and America. Because of his great efforts over many years, we can hold Worldcon in Japan. Shibano is a guest of honor who most closely matches our theme: the exchange of fans between Japan and America.

"Collective Reason: A Proposal" (1971, rev. 2000) Translated by Xavier Bensky and Introduced by Tatsumi Takayuki.
---
Encyclopedia of Science Fiction
Takumi Shibano (1926 - 2010)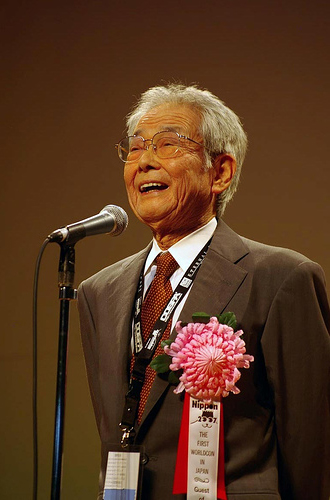 Japanese writer, translator and critic.
Takumi Shibano began writing science fiction as Rei Kozumi [cosmic ray] while a high-school mathematics teacher -- a job he quit in 1977 to become a full-time translator. He published his first short story in 1951. Later, 1969-75, he published three science fiction juveniles, including Hokkyoku Shi No Hanran ["Revolt in North-Pole City"] (1977).
But his influence on Japanese science fiction was more in his work as editor and publisher of the widely circulated Uchujin (1957-current), the first Japanese Fanzine, in which many stories by later-prominent science fiction writers -- such as Sakyo Komatsu -- were published. It reached issue #190 in 1991 and continues to introduce new writers.
Shibano has received many science fiction awards. The 'Takumi Shibano Award,' given since 1982 to people who have performed generous work in fandom, was named after him.
As a translator he has specialized in Hard science fiction: most of Larry Niven's books, as well as works by James P. Hogan, Poul Anderson, Hal Clement, and many more -- about 50 books in all. Takumi Shibano has also edited two anthologies of stories from Uchujin, the first in three volumes (1977) and the second in two (1967). He wrote the entry on Japan in this encyclopedia.
[Peter Nicholls]