Child Care


Bringing the kids to the con? We have a fun children's program for the Nippon 2007 Worldcon. Meanwhile, you can give them a good warmup on Japan at Kids' Web Japan.

Babysitting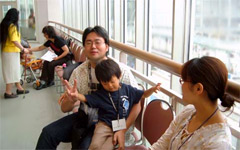 Babysitting with licensed caretakers is available for children 12 months to 12 years. Mothers Ltd. will manage the babysitting room for us. Thanks to a subsidy from "The Foundation for Children's Future," babysitting on the weekdays, Thursday, Friday, and Monday is free. On Saturday and Sunday, however, the charge is ¥ 2000 an hour.
Babysitting hours -
Thursday, August 30, 11:30 am - 6:30 pm
Friday, August 31, 9:30 am - 6:30 pm
Saturday, September 1, 9:30 am - 30 minutes after the Hugo Ceremony ends
Sunday, September 2, 9:30 am - 19:00 pm
Monday, September 3, 9:30 am - 1:00 pm
(September 3 has time extended from PR6 information.)
If you plan to use the Babysitters' Room, please Contact Us with the times or events (like Masquerade) you plan to leave your kids with us. We'll need the following infromation.
Mother or father's name
Their membership number
Child's name
Child's age
When (day and approximate times or Events)
Kids' Program
Here's a sample of the program items we'll have for the kids -
"The Solar System Ballet" (grades K-5)
We will see pictures of the planets and moons, and learn their proper order in the Solar System. Then we get to act out the Solar System. Each participant gets to be a planet or moon. We will have to figure out how to do the orbiting, moon around planet and planet around sun. It will give us a physical feel for orbits.
"Planetary Orbits Experiment" (grades 4-8)
We will recreate the Solar System to scale in our class room, first figuring out the scale of the orbits, then the size of the objects. It will be quite revealing! For anyone good in math there will be many fun challenges (but you don't have to do the math in order to have fun).
Contact: baby-sitting@nippon2007.org