Donbura-con Dinner Cruise
Yokohama was one of the first and certainly best known of Japan's international trade ports.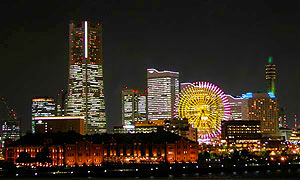 Come join us for a dinner cruise out in its famous harbor, and rub elbows with this year's Guests of Honor, Seiun Award, and Hugo Award winners. Munch the buffet and enjoy the fabulous nighttime view of Yokohama's Harbor Skyline.
The cruise starts at 18:30 (6:30 pm) on Sunday, 2 September, and lasts about two hours. The ship departs from Pukari Sanbashi Pier, which is harborside, just east of the Intercontinental Grand and the National Assembly Hall, marked with a white/magenta circle on the Hotel Location map (Hotel or Facilities page).
Applicants should be Attending Members of Nippon 2007, and address information should be the same as provided to the Worldcon.

Mail-in forms:
Application Form (rtf file - opens with any word processor)
Application Form (text file - can be attached to an email)
Application Form (pdf - print and mail)
Mail-in forms quote only yen prices. Please use these rates for dollars, pounds, and euros :
| | | | |
| --- | --- | --- | --- |
| | USD | GBP | Euro |
| Adults | $68.00 | £34.40 | €50.90 |
| High/Middle School | $34.00 | £17.20 | €25.50 |
| Elementary School | $27.50 | £13.90 | €20.50 |
Additional Donbura-con information for GoH's, Hugo and Seiun winners.
Other Cruises Discounted
We have received this announcement from the company operating the Donbura-con ship:
The PORT SERVICE CORP., from which a ship for Donbura-con Dinner Cruise is chartered, has offered a 10% discount on their cruise fares. Only by showing your nameplate, Attending Members of Nippon 2007 can board cruise ships operated by PORT SERVICE CORP. at the 10% discount on normal boarding fares. The cruise ships to be discounted include Marine Rouge, Marine Shuttle, and Sea Bass. Sea Bass service covers a route to the SF convention venue from Yokohama Station East Exit and from Yamashita Park.
Why don't you take this opportunity to enjoy cruising?
* Discount is only available for boarding fares. Please be aware that food and drink expenses on board a ship are not discounted.
Contact: donburacon@nippon2007.us