---
* HOME *
---
At a Glance
---
About Nippon 2007
About WorldCons
Agents
Art Show
Awards
Blogs/Galleries
Checklist
Child Care
Committee
Contact Us
Con Suite
Contests
Dealers Room
Donbura-con
Exhibits
Facilities / Maps
F A Q
Fanspeak
Filking (Music!)
Guests of Honor
Handicapped Services
Hotels
Hotel Alternatives
Hugo Awards
&nbspHugo Winners
&nbspHugo Nominees
Rocket Archive
Language/Food/Culture
Links
LiveJournal
Main Events:
Masquerade
Members
Mmbrshp Transfer
Newsletters (At Con)
Parties
Photos
Program - Western
Program Grid
Program Participants
Program - Japanese
Publications
Registration
Seals/Stickers
Seiun Awards
Site Map
Site Selection 2009
Speculative Japan
Tour with Fans
Ghibli Tour
Travel
Travel Links
Volunteers
World S F Society
---
Nippon Bid Site
Nippon2007.org
Archon 31 (NASFiC)
2008 Denvention 3
2009 Anticipation


Hotel Alternatives
We would like all attendees to use the accommodations secured by Nippon Travel, but for those who for any reason do not wish to stay at the recommended hotels, there are some alternative accommodation facilities located close to the convention site.

---
Youth Hostels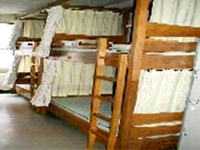 About a 20 minute walk up a hill from the convention site is the Kanagawa Youth Hostel. It is fully equipped with air conditioning and heating, but there are no private rooms or cooking facilities. The rate is 2980 yen per person per night and a visitor costs 1000 yen extra (rates as of June 2006). Kouyougaoka 1, Nishi-ku, Yokohama-shi, Kanagawa-ken Japan 220-0044
It is marked on the Hotel Location map, west of the Pacifico, across the freeway.
Weekly Mansions
If you'd like a room with a kitchen, how about trying a "weekly mansion"? Even though its called a mansion, its not a luxurious place for the rich. In Japan, apartment buildings made from reinforced concrete are called "mansions". "Weekly Mansions" are apartments that you can rent on a weekly basis. They're not spacious, usually only about 20 to 30m2 (215 to 320 sq. ft), but they do have a kitchen and a bath. The rate at in Sakuragi-cho, near the convention site, is roughly 50,000 yen. Some weekly mansions have English web-sites. If you're searching for one close to the convention site, search by typing in "Kanagawa" or "Yokohama" in their web-site search function. The closest train stations to the Worldcon are Minatomirai Subway Line's "Minatomirai" station and JR Line and Yokohama City Subway's "Sakuragi-cho" station.

There are not that many "weekly mansions" in Yokohama. Also, there are some that do not take reservations. Here are two weekly mansion web sites:
Monthlychintai
Tsukigime club

Guesthouses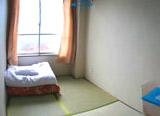 At Guesthouses there are private sleeping rooms, but like Youth Hostels the showers and toilets are shared with the other guests. The Yokohama Hostel Village has only small rooms, measuring about 3 tatami mats in size, but for two people to stay one night it has a very reasonable at only 4500 yen.

Since tatami mats average about 180 cm by 90 cm (about 3 x 6 ft), there is room for futons for only 2 people in a room. But this is good for those who want to experience the classic small living space life-style of Japan. The Yokohama Hostel Village also has an English web-site,
http://yokohama.hostelvillage.com/en/
Tel: 045-663-3696/ 9 am - 8 pm
Sanwa building 1F, 3-11-2 Matsukage-cho, Naka-ku
Yokohama-shi, Kanagawa
Japan
It is marked on the Hotel Location map, due south of the baseball stadium.

Manyo Club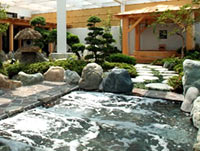 An Onsen (hot-spring) has been built next to the convention site Pacifico Yokohama, using trucked in hot spring water from the famous Onsens in Atamai and Yugawara. They have large indoor and outdoor baths, and also relaxation rooms with rows of big reclining chairs and TVs where you can nap, take it easy, and make yourself at home. A salon offers Japanese-style massages, "shiatsu" finger pressure therapy, etc. for an additional charge. It is open 23 hours a day, from 10am to 9am the following day, so you could spend the night relaxing there. Western sleeping accommodations cost between 13800 and 33800 yen according to the day of the week. Japanese-style rooms are available at the same rate. Unlockable capsule-style sleeping spaces, called "cabins", are available for 6300 yen. Note - people with large tattoos are not allowed in.

The Japanese style rooms don't have personal showers/baths, so you will have to use the communal baths (separated into baths for men and women). Although a great Japanese cultural experience, for anyone who would rather have more privacy, a "family bath" can be reserved so that only you and your group may enter during the reserved time.

Manyo Club has only a Japanese language web site.
Manyo Club
Shinminato-ku 2-7-1, Naka-ku,
Yokohama-shi, Kanagaw-ken,
Japan 231-0001
Tel: 045-663-4126 /FAX:045-671-1188
It is marked on the Hotel Location map, due south of Intercontinental Grand hotel, across the waterway.

Ryokan, etc.
Other types of accomodation are available if you search them out, some traditional Japanese, some not so. The Welcome Inn Reservation Center can help find them.