---
* HOME *
---
At a Glance
---
About Nippon 2007
About WorldCons
Agents
Art Show
Awards
Blogs/Galleries
Checklist
Child Care
Committee
Contact Us
Con Suite
Contests
Dealers Room
Donbura-con
Exhibits
Facilities / Maps
F A Q
Fanspeak
Filking (Music!)
Guests of Honor
Handicapped Services
Hotels
Hotel Alternatives
Hugo Awards
&nbspHugo Winners
&nbspHugo Nominees
Rocket Archive
Language/Food/Culture
Links
LiveJournal
Main Events:
Masquerade
Members
Mmbrshp Transfer
Newsletters (At Con)
Parties
Photos
Program - Western
Program Grid
Program Participants
Program - Japanese
Publications
Registration
Seals/Stickers
Seiun Awards
Site Map
Site Selection 2009
Speculative Japan
Tour with Fans
Ghibli Tour
Travel
Travel Links
Volunteers
World S F Society
---
Nippon Bid Site
Nippon2007.org
Archon 31 (NASFiC)
2008 Denvention 3
2009 Anticipation


Hotels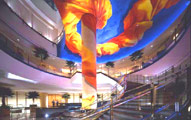 Pan Pacific Lobby
Hotel Reservations
We apologize, but hotel reservations through NTA closed 8 August, and when they did, our hotel information page went away. Here is a List of Worldcon Hotels with web links, but at this late date, you'll have to make the reservations on your own. You can use the Hotel Location Map below to help decide which one is best for you. Prices are usually per person, two to a room. 'Twin' refers to two people in a room, not the bed size. Most hotels have free internet. Ridiculously large, but it's a big town. Hotel names pop up when you mouse over the yellow/red marker. Many attraction markers (white/magenta) will link to web sites.

Suites
Suites (as opposed to rooms) must now be reserved through the hotels. This is a change from previous procedure. Such suites may not be used for parties.
We also have some non-official, non-endorsed alternatives to the hotels.
Nippon Travel Agency has put together a special travel deal on ANA that includes airfare from San Francisco or Los Angeles, hotel in Yokohama, and a tour of Tokyo. Price starts at $1550 for coach, $3950 business class, a pretty good deal, especially for business class.

NTA has extended the deal to other ANA cities (IAD, JFK, ORD) for an additional airfare, usually $250. Other Star Alliance airlines flying to Japan (United, Air Canada, USAir) should also offer the deal.

Contact us here if you're looking for a roommate to share expenses.