The Hugo Awards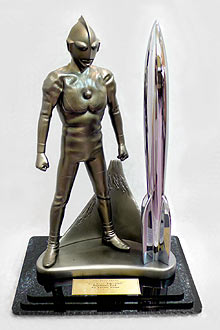 Nippon 2007 Hugo
The Hugo® is the top award for excellence in the field of science fiction and fantasy. Hugos are presented each year at the World Science Fiction Convention, by the World Science Fiction Society. All Worldcon members are entitled to nominate and vote for their favorites.
2007 Hugo Ceremony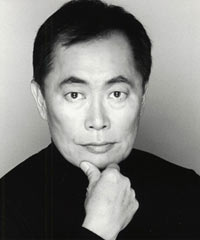 The Nippon 2007 Hugo Presentation Ceremony will be held in the convention center on September 1st at 18:00 hours (6 pm). We are honored to have a special co-host for the ceremony this year - George Takei, who will also be premiering a new production of "Star Trek New Voyages."
This Star Trek New Voyages episode stars George Takei and has won the TV Guide Award for Best SF Internet show, and has been nominated for the 2008 Hugo for Best Dramatic Presentation, Short Form.

The Nippon 2007 trophy features Japan's Ultraman and Mount Fuji, along with the traditional Hugo Rocket. The base was designed by Kinoshita Takashi of Kaiyoda.
Past Hugo Winners
Looking for something to read? worldcon.org has an excellent listing of all Hugo winners. And what would a Hugo bookshelf look like?
Hugo Categories
Hugos are presented every year in the following categories:


• Best Novel
• Best Novella
• Best Novelette
• Best Short Story
• Best Related Book
• Best Dramatic Presentation - Long Form
• Best Dramatic Presentation - Short Form
• Best Professional Editor - Long Form
• Best Professional Editor - Short Form
• Best Professional Artist
• Best SemiProzine
• Best Fanzine
• Best Fan Writer
• Best Fan Artist
Each Worldcon may also create its own additional Hugo category, which is awarded through the same process as the ongoing categories. Nippon 2007 did not choose to do this. See the Worldcon Constitution for details.
A full list of the current award categories with definitions is available at the Emerald City web site.
Hugo Nomination and Voting
Voting for the Hugo Awards took place in two stages.
During the Nomination Ballot stage, Nippon 2007 and LACon IV members nominated up to five entries in each category.

During the Final Ballot, members of only Nippon 2007 selected their favorites from the Nominees. Balloting closed July 31.
Campbell Best New Writer Award
The John W. Campbell Best New Writer Award isn't a Hugo (i.e. no rocket trophy), but nomination and balloting are done along with the Hugos, and the Award is presented at Worldcon. Writertopia has the Campbell Award page on their web site with details.
Hugo Design
The basic Hugo design is a chrome rocket ship, created by Jack McKnight and Ben Jason. Each Worldcon designs its own base for the rocket, so every year's Hugos look different.
More Hugo Information
The WSFS Constitution defines the formal rules governing Hugo categories and voting procedures.
Locus Online contains a comprehensive listing of SF Awards including not only the Hugos but many others from around the World.