Volunteers
Volunteers make any World Science Fiction Convention happen - and Nippon 2007 is no exception. Whatever your talents and experience, you can find a spot to make a contribution while having a wonderful time. And it's a great way to make new friends!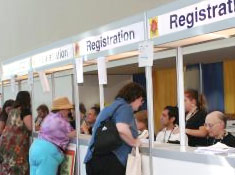 Volunteers in Registration, Operations, and Information (and pretty much everywhere else!) get to meet authors, artists, editors, and countless fellow fans. Masquerade volunteers see those amazing costumes up close, and help their talented creators put them on. Art Show volunteers see gorgeous artwork and talk to the artists who brought the ideas to life.
Every volunteer shares in the excitement of making this truly amazing event happen. You won't need any special knowledge for most convention work, and where you do, we'll help you learn. Helping at conventions can mean everything from putting out flyers and posters or newsletters for everyone to see, to coordinating an activity.
As the first Worldcon in Japan, Nippon 2007 has some unique challenges and opportunities. Very few of our Western Members speak Japanese, and while many Japanese fans have studied English, not many are fluent in the language. Science Fiction is Nippon 2007's common language. Our Eastern and Western Members will work in tandem as volunteer partners. (Think of it as a wonderful learning experience!)
To join us in the fun, complete the Volunteer form.
You may:
Fill in the MSWord version and email the file to volunteer.nippon2007@gmail.com,
or
Send us the information requested on the form in a regular email,
or
You can print a copy, complete it, and mail it to:
Nippon in 2007 Volunteers
c/o Bobbie DuFault
14616 Ley Rd.
Gold Bar, WA 98251, US
Contact: volunteer@nippon2007.us

---
Volunteer Desk and Volunteer Lounge
The Worldcon runs on volunteer labor, and the Volunteer Desk in the Conference Center (2F) is Command Central. It opens 9 am every day, and closes 8 pm Thursday and Saturday, 7 pm Friday, Sunday, and Monday.

Volunteers get to hang around in the Volunteer Lounge on the 3rd floor of the Conference Center, waiting for urgent calls for help. You can also sign up for shifts in various departments in the Lounge.
Volunteer Prizes
We also hope to thank volunteers with some exclusive perks - T-shirts, prizes, reserved seating at some of our larger events for those who are working right before the event, a staff-only party, etc. If you would like to sponsor the Gofer Hole or donate something to the Perks Pool, get in touch via volunteer.nippon2007@gmail.com or just send us the information.
Worldcons are entirely organized and staffed by volunteers. The Worldcon depends upon the help of many attendees who volunteer some of their time and skills.
Worldcon registration opens on Wednesday, August 29th. Early-comers can finish the formalities the day before the Worldcon begins (and help with the set-up). Some wonderful people also stay longer and help with tear down and the cleaning up the day after the convention is over.
During the convention, many volunteers are needed. In order to encourage this kind of friendly volunteering, the convention committee has set up a Volunteer Lounge (Gofer Hole). It is customary to give prizes or gifts to the volunteers. Nippon 2007 will also follow this Worldcon tradition, and we have various presents ready.
First, each volunteer gets a chance to win a little prize upon registering as a volunteer; it is possible for anyone to win.
Volunteers who help for more than three hours are eligible for the following presents:
Three hours or more: A Nippon 2007 button
Five hours or more: A Japanese hand towel and one chance to win an Attending Membership at next year's con.
Ten hours or more: a volunteer T-shirt and two chances to win an Attending Membership at next year's con.
For each additional five hours, volunteers will get one more chance to win Attending Membership at next year's con.
If Nippon 2007 is financially able to do so after the Worldcon, volunteers who work more than 30 hours will have their membership fee refunded.
Volunteer time slots start at an easy one-hour, however we encourage volunteers to work two or three hour shifts. The Worldcon is more fun for everyone when many people volunteer. For example, some people bring their grandchildren to help at the art show. Elementary school students check name badges at the entrance, and you can see them having fun volunteering regardless of age. Volunteering is a wonderful way to meet other fans. And, itís a wonderful learning experience.