Sakyo Komatsu 1931 - 2011
---
From Japan Times
http://search.japantimes.co.jp/cgi-bin/nn20110729a8.html
Friday, July 29, 2011
Sci-fi pioneer Komatsu dies at age 80
Kyodo
OSAKA — Sakyo Komatsu, Japan's leading science fiction author, died Tuesday of pneumonia at a hospital in Minoo, Osaka Prefecture, people close to him said Thursday. He was 80.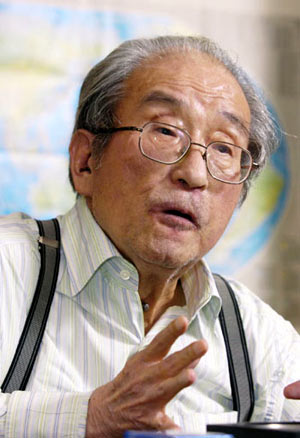 Komatsu, whose real name was Minoru Komatsu, started his career in the 1960s and became a pioneer of science fiction writing in Japan. His bestselling disaster novel, "Nippon Chimbotsu" ("Japan Sinks"), was turned into a movie and published overseas.
The science fiction novel is about tectonic movements that eventually submerge the entire Japanese archipelago and the response of the Japanese people.
The prizewinning author was also a high-profile critic who had unique perspectives on mankind and civilization. He was also involved in organizing the Japan World Exposition in Osaka Prefecture in 1970.
According to his office, just before he died, Komatsu said Japan "will certainly overcome this crisis (caused by the March 11 earthquake and tsunami). I think Japan will certainly be able to realize a utopia. I believe in Japan and the Japanese people."
Komatsu, who was born in Osaka and raised in nearby Nishinomiya, Hyogo Prefecture, studied Italian literature at Kyoto University, while working on a magazine with classmates. After graduating, he worked at various jobs, including as a magazine reporter and a writer for stand-up comedy acts.
---
From Straits Times (Singapore)
http://www.straitstimes.com/BreakingNews/Lifestyle/Story/STIStory_695861.html
Jul 28, 2011
Japanese sci-fi writer Komatsu dies
TOKYO - SAKYO Komatsu, one of Japan's leading science fiction writers, known for his best-selling disaster novel 'Nippon Chimbotsu' (Japan Sinks), has died, reports said on Thursday.
He succumbed to pneumonia at a hospital in Osaka on Tuesday, at the age of 80, Japanese media reported.
The novel, published and adapted for film in 1973, portrayed the sinking of the Japanese islands into the Pacific following earthquakes, volcanic eruptions and tsunami. It has been translated into a dozen other languages.
It caused a sensation in Japan, which is prone to major earthquakes, most recently the 9.0-magnitude quake and tsunami which left some 21,000 people dead or missing and sparked a crisis at a nuclear power plant on March 11.
The novel has sold more than four million copies at home alone.
A graduate of Kyoto University, Komatsu made his debut as a science fiction writer in 1962 after working as an economic magazine reporter and a standup comedy script writer. -- AFP