Passing of Takumi Shibano
Nippon 2007 Guest of Honor Takumi Shibano passed away this January 2010. He made many contributions to the science fiction community in Japan, and had many friends there.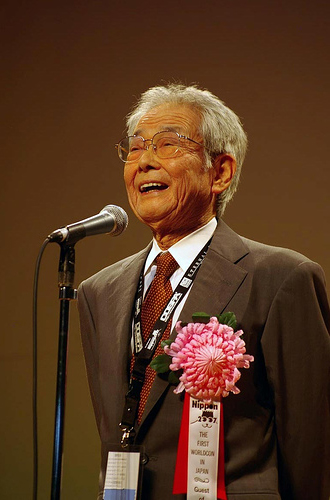 North American Agent Peggy Rae Sapienza received this email from Tamie Inoue, and it is copied here with her permission.
From: Tamie Inoue
Sent: Monday, January 18, 2010 12:07 AM
To: Peggy Rae Sapienza
Subject: Re: Shibano-san

Peggy Rae-san:

His loss is really hard to us.

In the custom of Japan,
People offer flowers to the spirit of the deceased.
It is a flower basket. And, the funeral hall is decorated with them.
Name tag of the person who sent it is put on the flower basket.
To offer the flower, we contact the funeral parlour, and pay for the flower.
...Nippon2007 committee ordered the flower basket.

Friends who live far away send to family the telegram of condolence.
If you visit Shibano-san's grave when you come to Japan, his family might be pleased. And, talk with Sachikosan about Shibano-san is best way I think.
...
Tamie Inoue